Welcome to the online home of Linda Abbott


Renowned for her skillful sandblast etching and bevel work, Linda Abbott is a favorite of designers and homeowners from coast to coast for her elegant stained glass artwork. Glass aficionados appreciate her unique ability to combine the highly detailed style developed by Louis Comfort Tiffany with lyricism reminiscent of Alphonse Mucha.

Linda also creates jewelry, awards and gift items. Her work with dichroic glass and silver clay is spectacular in its originality and style.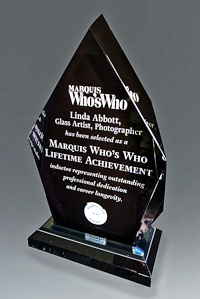 Linda was recently awarded the Marquis Who's Who Lifetime Achievement Award. It is given to less than 3% of the people who are listed in the Marquis Who's Who publications for "outstanding professional dedication and career longevity."

In addition, Linda is sought out for her skill as teacher and mentor.

On this website, you can find out more about Linda, view several galleries of her work, and learn about instructional CDs she has written for people wanting to learn how to wire wrap jewelry like she does or learn how to make chain maille jewelry.

For questions or inquiries regarding her work or obtaining her CDs, please contact Linda directly at the following:

Linda Abbott Glass Studio
13226 Waterleaf Garden Circle
Riverview, FL 33579


Phone: (385) 205-0863
E-mail: Linda@AbbottGlass.com